This beautiful lace was given to me by my mother, and was in box from her mother of odd doilies and lengths of lace carefully unpicked and saved by the women of our family (Edit: Having spoken again to mum, she thinks it most likely came via our Great Aunt Connie).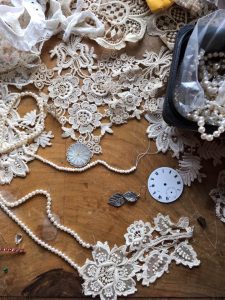 It's such a pleasure to work with them to create genuinely one of a kind items with lots of love in their history. I play with arrangements of lace, vintage (simulation) pearls until something appeals.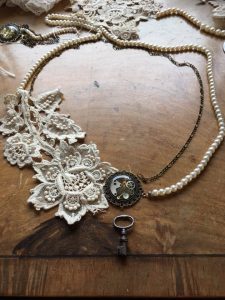 The next step for this piece, was careful repairs to the damage areas – luckily I have a large collection of threads in any number of shades of white and cream so I was able to match the lace.
During the second day of careful repairs I realised that I'm not the first person to reinforce and repair this beautiful flower and can't help but wonder who it was before me – my Great Aunt? My Grandmother?
One of my favourite things about beautifully crafted well made items is that they can be repaired. This isn't throw away fashion.
Just as I hadn't noticed these tiny stitches before I started my work – I hope you won't see mine either.
The final necklace was reserved before it was completed by a lovely customer who saw it on my facebook page
Here it is, mocked up, awaiting a final fitting