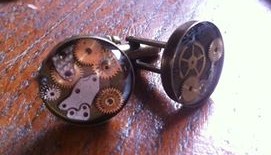 It absolutely makes my day when I hear from customers, here's what the lovely Natalie had to say about some cufflinks she bought for a friend:
"The cufflinks arrived on Wednesday – thank you so much!..They are even more beautiful in person and I can't wait to give them to my friend
 Thanks again!"
and then later after his birthday she let me know her friend loved them too.
Natalie was kind enough to comment on my facebook page as well:
"I bought some cufflinks for a friend and was lucky enough to win myself a necklace too! Both such beautiful, well made items that were delivered quickly. I will definitely be buying again
"
I'm so glad they both liked them, I love making my steampunk creations and sending them out into the world can be nerve wracking. Hearing that they are enjoyed and appreciated is fantastic
If you've bought something from a independent craftsperson which you love, why not let them know? I promise you it will make their day.
If you'd like to get yourself a piece of steampunk gorgeousness drop me a message, I'm aiming to launch an online shop at the end of the month, but in the meantime you can email me or use the contact form  or find me on facebook, all my items can be posted. Alternatively find me at The Surrey Steampunk Convivial 19th & 20th November.